At LebanAir, we are able to handle all of you Pilot supply needs. Weather you are in need of charts, headsets, flight guides or other pilots supplies, you can find it all at LebanAir.
We are an authorized dealer for the following products:
Official FAA Aviation Charts:
The iFly 700™ by Adventure Pilot™ (Come see and handle our demo model!)
The ultra-affordable, 7″ moving-map GPS designed for private pilots, by private pilots.
The new iFly 700™ GPS is the perfect combination of affordability, capability, and usability.
Sectionals, Plates, IFR Low-Enroutes, and More
No more bulky charts to deal with. The iFly 700™ is loaded with sectionals, IFR Low Enroute charts, airport diagrams, approach plates, and more. In fact, everything from planning to flying is designed around image enhanced maps from the FAA. Sweep your finger across the screen to scroll through the map, quick-tap to switch to another sectional, drag a route line to avoid a TFR, tap an airport to get detailed information, etc, etc. It's easy, intuitive, and fast.
Affordable! $549 Plus $69/year
The iFly 700™ is being offered at an incredible value of only $549. Annual data subscription as low as $69 allow you to keep your iFly current and up to date. The VFR subscription is $69 per year, and includes sectionals, TAC charts, AFD, TFRs, and more. For only $20 more (total of $89/year), you can get the VFR/IFR subscription which includes everything in the VFR plus Low Enroute Charts. And these subscriptions include software updates! So you will get all the cool new features we're working on.
Perfect sized 7″ touch-screen
The 7-inch touch screen is ideal: big and bright enough to read easily in flight and yet small enough to manage comfortably. An included suction mount with multiple articulation points or an optional yoke mount provides lots of mounting options. The touch screen interface is incredibly simple to use. No installation or setup required. Just turn it on and you're ready to fly!
And More…
Comprehensive data at your fingertips. Never fly with an expired sectional again. Updates are available anytime day or night from any internet connected computer. Highlighted TFRs. Exhaustive list of STAR, Approach & Departure charts, and airport diagrams. Great accessories: padded carrying case, suction mount, remote control, AC and DC adapters.
What people are saying about the iFly 700™ by Adventure Pilot™
AOPA Pilot Magazine "the iFly 700 is a robust package for a great price!"
Plane and Pilot Magazine "Touch Screen Wonder"
Fly-Low Publications "…intuitive and easy to use and would be a great addition to your flight bag."
Vans Airforce "…an excellent value"
EAA chapter 663 "…provides unprecedented situational and spatial awareness"
P&P Tech Talk "…Adventure Pilot is off to a great start with brisk sales and a flood of happy customer testimonials…"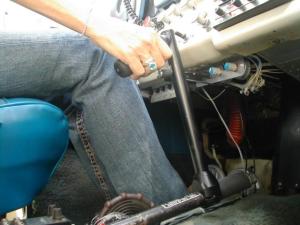 Now Approved on ALL 4 Seat
Cessna – Piper – Maule – Stinson – Beechcraft
With Manual Flaps !
Finally -
reach the flap control  Easily … Instantly … Conveniently
no more bending forward and down for the flap handle
sit upright – eyes out of the cockpit – face out of the panel
focus on landing or takeoff, not reaching for the flap lever
Your search for the most high performance aviation headset in the world is over.
A distinctive look and unparalleled comfort makes Zulu the ultimate blend of technology and high performance.
Plush ear seals combined with magnesium ear cups and supported by a stainless steel headband deliver durability at 13 ounces. Use Zulu's innovative Bluetooth connectivity to facilitate communications and get on your way to enhancing the freedom of flying.
Our engineers researched how pilots perceive noise at various frequencies in the cockpit, and then developed technology providing focused noise attenuation over the most critical ranges. The achievement is a headset with the ultimate performance profile and industry-leading total noise cancellation attributes.
Zulu is setting the standard for all ANR headsets.
and more.