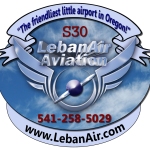 LebanAir would like to thank all the people that stop in to see us!  We appreciate the opportunity to serve you, and hope you come back to see us again!
Check out the photo gallery at the bottom, with pictures of our valued customers!

From Dave Cherwink on 11-Apr-2014
Once again, good folks at LebanAir go above and beyond to provide excellent service. Good news, they are updating the place, and making it even more friendly and helpful, while keeping the price of mogas, and 100LL at the lowest around. You really need to stop in and get some fuel and oil, have a water, and get to know the good folk here. I'll be back when I can.
From Thomas Gilman on 16-Sep-2013
The most helpful and friendly FBO I have ever stopped in. Great fuel prices, Mogas, courtesy cars, soup! even a "pilot apartment" which I didn't end up needing but sure appreciated the offer! They should all be like this place.
From Peter Goldstern on 26-Jun-2013
Simply a nice place to visit. Super people, great fuel prices, and courtesy cars. If you were planning on just stopping for gas you might decide to stay a while. Thanks Larry, Danna, and the new manager Donna.
From Tyler Adams on 07-May-2013
Larry and Danna are as nice as they get! I fly in all the time from Corvallis to get Mogas, and it couldn't be a more pleasurable experience.
From Bryan Rose on 14-Feb-2013
Wow…. Just like the great days that we miss so much. This is like stepping back in time. First Class FBO and Facilities. Larry and Danna are fun and friendly. Above and Beyond service from them. Do yourself a favor… Fly in, meet them, borrow one of their courtesy cars and head in to town for a fantastic lunch. If you are not SOLD on this airport and these people, I will buy your lunch!!! Check this place out!!
From Dan Conrad on 12-Feb-2013
Larry and his wife have worked hard to have the best FBO around. They are very helpful and make you feel like family.
From Paul Council on 17-Oct-2012
The FBO feels more like your uncle's living room than a business. Very friendly place even when I was not buying gas.
From Russ McCutcheon on 12-Aug-2012
Best place to stop in the valley! Larry and his wife are very nice people and the gas price is the lowest around, even fun to stop in just for a visit.
From Joshua VerHalen on 13-May-2011
Very nice FBO…Friendly staff and nice accommodations available at all times. Crew car was readily available and we were provided with recommendations for a wonderful breakfast in town. Fuel pump was unfortunately broken on our way to Washington but we made a point to stop back on our way back to California because the price was so low. Great stop
[flagallery gid=16]