Discovery Flights:
Have you ever wondered what all those buttons, dials and switches in a cockpit are for? Or what actually makes an aircraft fly? How many times have you seen airplanes soaring in the sky and wished you could play in the clouds, too? For all those who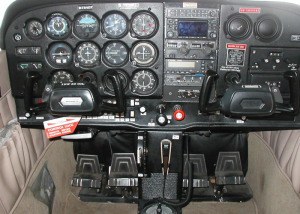 have ever dreamed of flying, or wanted to give someone else the opportunity, you've landed at the right spot.
A "Discovery Flight" is designed to allow you to "discover" the joy of flight. If you've never been up in a single engine airplane before or if you're just thinking about learning to fly and not quite sure, this is a great way to start.  Your pilot will show you how to "pre-flight" the airplane. Then, you'll climb aboard, fire it up, and head for the active runway. Pretty quickly you will find yourself floating gently off the ground and into the exciting world of flying!
On your discovery you will:
Be introduced to your certified flight instructor
Learn how to do and exterior pre-flight check of the airplane
Learn how to do the pre-flight check inside the cockpit
Take the controls of a real airplane and fly some basic maneuvers
Fly for approximately 1/2 hr (could be a little longer)
Discover why you have felt that attraction to flying and what it will take to become a pilot and fly an airplane yourself!
Bring up to two friends or family with you (depending on weight limit)
Take your discovery flight today for only $65!
Discovery Flight Certificates available for purchase!
CERTIFICATES, MAKE GREAT GIFTS!